In the year of Bergamo Brescia Italian Capital of Culture, the museum program opens with A Leap into the Void. Art beyond Matter, the third and final chapter of the major exhibition project dedicated to the investigation of matter in twentieth and twenty-first-century art.
Launched in 2018 with Black Hole. Art and Materiality from Informal to Invisible, and continued in 2021 with Nothing is Lost. Art and Matter in Transformation, A Leap into the Void concludes the Trilogy of Matter exploring the theme of the dematerialization, with a transversal tale that triggers a connection between those investigations into the void, initiated by the first movements of the historical avant-garde and developed by experimental groups post-World War II, the investigations into flux undertaken in the years of early computerization, and the use of new languages and simulated realities in the post-digital era.
The exhibition, curated by Lorenzo Giusti and Domenico Quaranta, presents the works of some of the leading protagonists from the history of twentieth-century art, as well as pioneers of digital art, together with artists from more recent generations, thanks to loans from important international institutions, and from private collections.
Specifically, A Leap into the Void looks at those artists who, at different times, have investigated the dimension of the void in relation to the theme of matter—thus denying it in substance or identifying it as a mere ideal or imaginative dimension—or whose work has proved capable of reflecting epochal changes in the perception of the material dimension and in material culture itself, introduced by the emergence of the paradigms of software and computerization, as well as by the digital revolution and its social absorption.
The exhibition is divided into three sections—Void, Flow and Simulation—which frame as many ways of focusing on, representing, and expressing the principles of dematerialization, and develops an experiential path in which the numerous works on display stimulate the viewer's perception from a visual and bodily perspective.
THE VOID
The first section of the exhibition is dedicated to the representation of the void as an immaterial space. Thus, this is a forcedly denied representation, continually negated and fundamentally contradicted by the very material nature of the artwork itself. It hosts a series of works by artists who, at various times, especially in painting, have worked through the principles of extreme reduction, minimum and imperceptible contrast, describing the void as an imaginative, ideal, or conceptual dimension.
Characterized by the dominant use of white, in the first rooms the exhibition path ranges from the extroversions of Agostino Bonalumi and Enrico Castellani, Dadamaino's transparent plastic sheets, perforated at regular intervals, right up to the minimalist compositions of Jean Degottex and Aiko Miyawaki, to the most radical experiments with light and space by Ann Veronica Janssens.
Works by artists of the early and late-twentieth century are thus placed in dialogue with works by some of the most significant protagonists of international art over recent years.
FLOW
Between the end of the 1960s and the early 1970s, a number of historic shows interpreted developments such as the dematerialization of art, the advent of system and process works as well as the broadening of languages as a consequence of the growing informatization of society, the advent of data processing and global communication platforms, for the first time coupling contemporary works of art, technological devices, and early exemplars of new media art.
Ideally continuing this line of research, the second section of the exhibition ('Flow') brings together a selection of works from various periods, from the avant-garde to the present day, witnessing the radical impact of computerization and digital networks on the perception of material reality. The dimensions investigated are those of the non-atomic materiality of data, of the bit as the minimum unit of information, of the pixel as the minimum unit of the digitized image, of the software as a process that may or may not generate tangible output. Therefore, through a series of significant examples, the section examines the complex way art exists in the so-called 'Informational Milieu.'
This section includes works by precursors such as Giacomo Balla, Umberto Boccioni, František Kupka, Pablo Picasso; works that introduce the perceptual dynamism of Programmed Art and Fluxus together with works from the 1960s and 1970s that represent complex systems and works based on processes, instructions, and programs––from Agnes Martin to Roman Opałka, from Vera Molnar to Lillian F. Schwartz––; and many recent works by contemporary international artists.
SIMULATION
The information age has vaporized reality into a series of relational, communicative and media experiences, in which the material that reality is made of is sublimated into the intangibility of the 'virtual.'
Initially viewed as a radically different dimension, accessible only through a temporary abandonment of reality made possible by specific immersive technologies—analogue ones, such as panoramas, digital such as simulated reality helmets—the virtual has gradually become identified with reality itself, as our relationships, communications, and experiences have been facilitated ever more by screens, devices, and communication networks.
The third section therefore focuses on the real–virtual junction, in a chronologically alternating path that places in dialogue works that critically investigate the impact of simulations on our way of perceiving concrete reality—Lynn Hershman Leeson and Seth Price, among others—with works which, through the painterly medium, broaden the perception of reality, creating powerful visual illusions—Richard Estes, Duane Hanson, René Magritte—and others that construct compelling and immersive alternate realities, some mediated by the use of Virtual Reality and Augmented Reality devices, along a path that proceeds from pioneering works to more recent works—from Rebecca Allen to John Gerrard, from Jon Rafman to Timur Si-Qin.
MERU ART*SCIENCE RESEARCH PROGRAM
The exhibition draws on the collaboration of the Fondazione Meru – Medolago Ruggeri Foundation for Biomedical Research, which between 2013 and 2017, together with Associazione BergamoScienza and GAMeC, promoted the prestigious Meru Art*Science Award, aimed at promoting artistic projects linked to the development of scientific research.
The new research program—Meru Art*Science Research Program—finances the creation of a site-specific project for GAMeC's Spazio Zero, as was the case for the Black Hole and Nothing is Lost exhibitions.
For A Leap into the Void, the MSHR (Brenna Murphy and Birch Cooper) present a new installation from the Nested Scapes series (2017 – ongoing), which explores and enhances the various levels of immersivity and fruition that are manifested—intentionally or not—whenever virtual reality is presented in a public space. In their installations, MSHR creates complex systems rooted in cybernetics and information theory, drawing on various feedback processes between the environment and the viewers, and which make the latter the protagonists of an experiment which extends perceived reality while soliciting the reactivation of forms of creative thinking and "mind wandering" through virtual reality, connected to what neuroscience calls DMN (Default Mode Network), normally compromised by distraction induced by digital devices and information flows.
CATALOGUE
Along the lines of the publications that accompanied Black Hole and Nothing is Lost, the catalogue for A Leap into the Void—published by Officina Libraria and GAMeC Books with graphic design by Studio Temp—will consist of texts by curators Lorenzo Giusti and Domenico Quaranta and in-depth studies of the works on show by Italian and international art historians.
Each section of the catalogue is introduced by a scholarly text, previously unpublished in Italian, considered of particular importance for the development of the exhibition project: Karen Barad for the Void section; Luciano Floridi for the Flux section; and Myron W. Krueger for the Simulation section.
Closing the volume is the republication of an essay by Italo Calvino, derived from a 1967 lecture entitled Cybernetics and Ghosts, in which the author describes literature as a combinatorial process, dwelling on the impact of information theory on literature, on creation and our worldview, on the end of the author, on the man-machine relationship, and on what was then not yet known as artificial intelligence.
ARTISTS ON SHOW
Josef Albers, Agostino Bonalumi, Regina Cassolo Bracchi, Enrico Castellani, Dadamaino, Jean Degottex, Aleksandra Domanović, Ann Veronica Janssens, Yayoi Kusama, Francesco Lo Savio, Scott Lyall, Fabio Mauri, Aiko Miyawaki, Andrés Ramírez Gaviria, Antoine Schmitt, Gerhard von Graevenitz.
Carla Accardi, Cory Arcangel, Giacomo Balla, Umberto Boccioni, Maurizio Bolognini, Paolo Cirio, John F. Simon Jr., Channa Horwitz, Ryoji Ikeda, Vladan Joler, František Kupka, Sol LeWitt, Mark Lombardi, Agnes Martin, Eva and Franco Mattes, Vera Molnar, Roman Opałka, Trevor Paglen, Pablo Picasso, Casey Reas, Evan Roth, Lillian F. Schwartz, Hito Steyerl, Addie Wagenknecht. Programmed Art 1962: Gruppo T [Giovanni Anceschi, Davide Boriani, Gianni Colombo, Gabriele Devecchi, Grazia Varisco] Gruppo N [Alberto Biasi, Ennio Chiggio, Toni Costa, Edoardo Landi, Manfredo Massironi], Getulio Alviani, Enzo Mari, Bruno Munari. Fluxus [Nanni Balestrini, John Cage, Robert Filliou, Alison Knowles, Yoko Ono, Nam June Paik, Mieko Shiomi].
Rebecca Allen, Gazira Babeli, Petra Cortright, Constant Dullaart, Richard Estes, John Gerrard, Elisa Giardina Papa, Duane Hanson, Lynn Hershman Leeson, Agnieszka Kurant, JODI, René Magritte, MSHR, Katja Novitskova, Seth Price, Jon Rafman, Rachel Rossin, Manuel Rossner, Jeffrey Shaw, Timur Si-Qin, Ai Weiwei.
The exhibition's institutional partners are numerous: City of Bergamo, TenarisDalmine, Carvico S.p.A., Bonaldi Motori S.p.A., Fidelitas S.p.A., Fondazione Credito Bergamasco, Camera di Commercio di Bergamo, Flow-meter™ S.p.A., Iterchimica S.p.A., Lovato Electric S.p.A., Pedrali S.p.A., Planetel S.p.A., 3V Green Eagle S.p.A., Publifarm S.p.A., Skyline S.r.l., Confindustria Bergamo, Fondazione Meru, Associazione BergamoScienza, Fondazione Dalmine, ATB azienda trasporti Bergamo.
The exhibition is also supported through the Bergamo Brescia 2023 Committee by Intesa Sanpaolo and Brembo.
---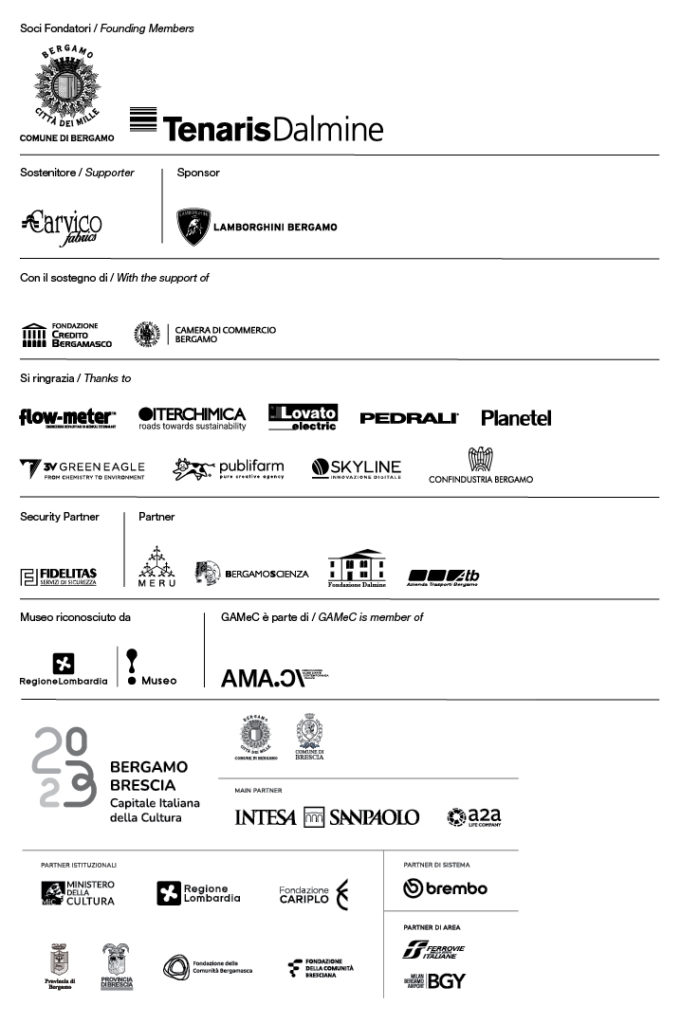 »
GAMeC
»
Aggiungi al calendario
01/01/1970 00:00
true
DD/MM/YYYY
Europe/Rome
A LEAP INTO THE VOID. ART BEYOND MATTER
Discover the last chapter of the Trilogy of Matter
A LEAP INTO THE VOID
ART BEYOND MATTER
Opening Hours
Monday, Wednesday, Thursday, and Friday: 3-7 pm
Open in the morning for schools and groups with reservation
Saturday and Sunday: 10 am – 7 pm
Closed on Tuesday
The Ticket Office closes at 6 pm
The VR works are accessible until 6:30 p.m.
The Raccolta Spajani, part of GAMeC's Collection, closes at 6 pm
Tickets
Salto nel vuoto Unlimited (unlimited access to the show): € 10,00
Full: € 8,00
Reduced and Groups: € 6,00
Free 0-19 years
Categories entitled to discounts and free entrance are available at
this link
Tickets can be purchased at the museum ticket office, or online at
MidaTicket.it
(Online presale: € 1,00)
Information
GAMeC Ticket Office
Tel. +39 035 270272 – ext. 408 (type 408 as soon as the automatic message starts)
E-mail:
biglietteria@gamec.it
Entrance is not allowed with animals.
Don't miss the opportunity to discover the virtual reality installations of the exhibition A Leap into the Void, hosted in GAMeC's Spazio Zero.
On weekends and during the museum's special opening days, it is highly recommended to reserve the access, which is scheduled in time slots allowing 15 people per turn (from 10 a.m. to 6 p.m.).
A minimum of 30 minutes is required for complete enjoyment of the installations, so it is recommended to arrive at the entrance of Spazio Zero on time, with respect to the booked time slot.
Adults must accompany children under the age of 14.
In order to visit the VR installations, you must have purchased an online ticket (MidaTicket) or the Unlimited ticket, purchased online or at the museum ticket office, which grants unlimited entrance to the exhibition until May 28, 2023.
Important note: Virtual reality works require special modes of use with only one visitor at a time, as well as maintenance and frequent updates due to their sophisticated technological nature. As a result, visitors may have to wait for a few minutes or an installation may be temporarily unavailable because it is being updated.
A Leap into the Void. Art beyond Matter
Special openings
April 9, from 10 a.m. to 7 p.m.
April 10, from 10 a.m. to 7 p.m.
April 24, from 10:00 a.m. to 7:00 p.m.
April 25, from 10:00 a.m. to 7:00 p.m.
May 1, from 10:00 a.m. to 7:00 p.m.
Digital Exhibition Guide: Inmagik